It's the most wonderful time of the year but, unfortunately for some, Christmas can also be a very lonely occasion, particularly for a number of elderly residents.
To help combat loneliness this Christmas, the young leaders from Compass Support and Greenwood Academy have teamed up with Community Organisers to put together Christmas hampers for over 60 elderly residents that live in the local area as part of their social action campaign 'No one Without'.
The hampers will be hand delivered in the build up to Christmas, and include food, treats, a little gift and information about groups and activities available in the local area, including clubs and a befriending service.
Compass Support is the charitable subsidiary of The Pioneer Group and has operated the project for three years as it gets more and more popular. Through a local campaign called 'Happy Streets', which promotes acts of kindness within the community, the Christmas Hamper project will reach the wider area of Castle Vale, Birches Green, Pype Hayes and Falcon Lodge this year.
Hamper contents have been donated by families from Pegasus School, Gunter School and Birches Green Infant School. Through 'donation stations' pupils have been contributing towards the campaign and also nominating residents within their communities to receive a hamper.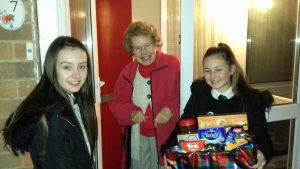 Youth Team leader at Compass Support Lee Crofts said:
We want to encourage everyone to make a difference and reach out to others in the community who may not have many family or friends to see this Christmas.

Our young leaders are a credit to us all and we're extremely proud that they have set up this campaign that gets bigger each year.
If you would like to make a contribution there are community 'donation stations' at The Sanctuary and The Pioneer Group on Castle Vale High Street or if you know someone who may benefit from this service you can get in touch by emailing Lee Crofts on leec@compass-support.org.uk.